Introduction
The section of Highway 1 that heads south from Carmel-by-the-Sea is one of the most scenic roads in the world. I've driven it several times in a car, and once on a motorcycle. I've also done multiple backpacking trips in that area, so I've seen how beautiful it can be in many different weather patterns. It's a part of California that I always look forward to visiting except in the stormiest of weather when mudslides can (and do) close the road and block off access to the rest of the world.
The Big Sur International Marathon runs along a part of this section of highway 1. The race starts at Big Sur Station, and runs north for 26.2 miles to Carmel-by-the-Sea. As far as marathons go, it's a tough one to get into because of the lottery system. There are a limited number of spots (around 4,000) because the logistics can't allow for more runners. The race closes much of the highway, transports all runners to the start by bus, and stages the start area in a parking lot with no cell service and only a handful of volunteers.
One way that runners can skip the lottery is to run as part of the "Boston 2 Big Sur" category. The Big Sur International Marathon is always 13 days after Boston, and an entry in this category requires that you're entered to run Boston as well. It's a more expensive entry fee but it does allow you to skip the lottery if you're up for the challenge! I opted for the challenge this year.
I ran 2:57:42, good for 16th male overall, 5th in my age group, and 7th overall in the Boston 2 Big Sur category. The race was much, much slower compared to previous years due to crazy high headwinds for almost the entire day. I felt like I ran way, way harder than my time suggests. More on that later!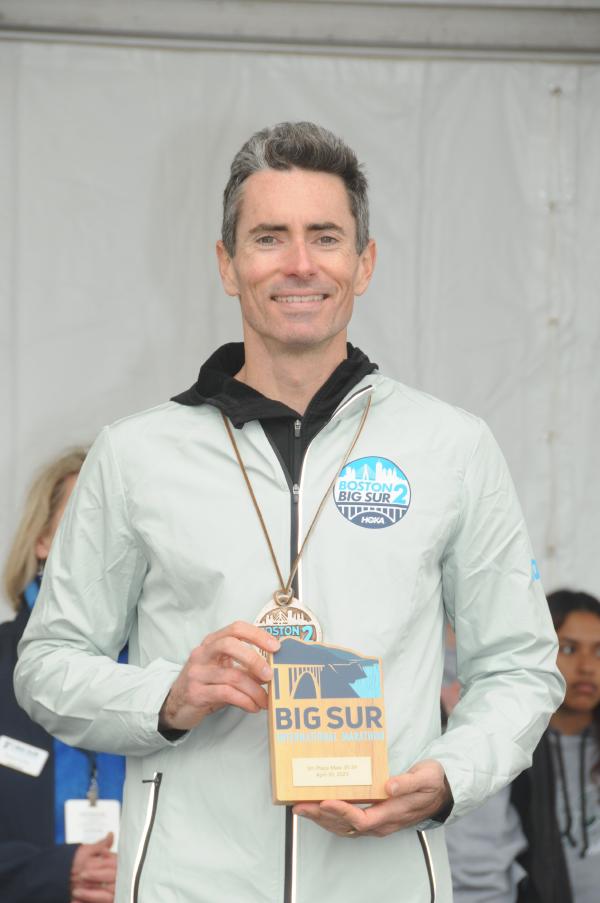 Recovering from Boston
Boston recovery was tough. As I mention in my post about the Boston marathon, I had only averaged 45 miles per week of training in the 8 weeks leading up to the marathon. Running a sub-2:45 marathon on that low amount of training meant that I was incredibly sore and fatigued in the week after the race. I went backcountry skiing for two days (doing a single lap up Steamboat each day) and I ran on 5 days in total between Boston and Big Sur. None of my runs were longer than an hour. I went into Big Sur feeling healthy, but definitely not fresh.
Enjoying Monterey, Carmel-by-the-Sea, and Big Sur
My wife and I made a nice little vacation out of the weekend. We enjoyed pre-race dinner at Stoke's Adobe, a great upscale restaurant in Monterey. We got ice cream twice at the amazing Revival Ice Cream. We had outstanding fried fish at Phil's Fish Market on the drive into town. We went for a day hike down the coast and spent that afternoon getting brunch and exploring downtown Carmel-by-the-Sea. All in all, it was a wonderful weekend.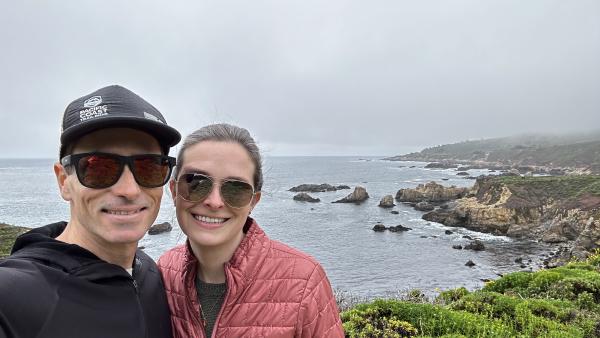 Race Morning
Since the race runs entirely on Highway 1, and it's the only road that goes to the start at Big Sur Station, the runners must all be transported to the start before the road is closed. That means that buses started loading at 3:45am. The line to board the marathon buses stretched almost entirely around the city block that holds the Marriott hotel in Monterey. It took about a half hour from the time I got in line, to my bus departing.
Bus Bathroom Fiasco
I had a hilarious experience when the bus dropped us off. I thought it would be a good idea to use the bus restroom rather than standing in line to use a port-a-potty in the athlete's village. A few other runners had the same idea, and I got my turn just as everyone else was getting off the bus. The bus driver came back and knocked on the door just after I had closed it, and I yelled out that I would be just a minute, but they either didn't hear me or didn't care, because they started driving off! I rushed to finish and opened the door, waving and yelling that I needed to get off the bus. Fortunately, the driver pulled over to the side of the highway and opened the door to let me off. I walked a hundred yards or so back up to the rest of the line of runners headed into the village. That was a close call!
Race Report
The Big Sur course is incredibly beautiful, but also very tough. I logged 1,900 ft of climbing for the race. The race is net downhill, including a downhill start, so it rewards those with strong legs.
If there's one memory of the race that I have stuck in my mind, it's the mind-numbing wind that we all experienced on race day. The women's winner this year, Anne Flower, ran more than 6 minutes slower than her winning time last year. The men's winning time was more than 10 minutes slower than last year. If I had to guess, I'd say the average sustained headwind was between 10-20mph for most of the day. Gusts were likely up to 50mph at times. I saw sandbags placed on top of the car batteries that were being used to power the timing mats. I've never been in a race with more difficult sustained headwinds, and that's saying a lot.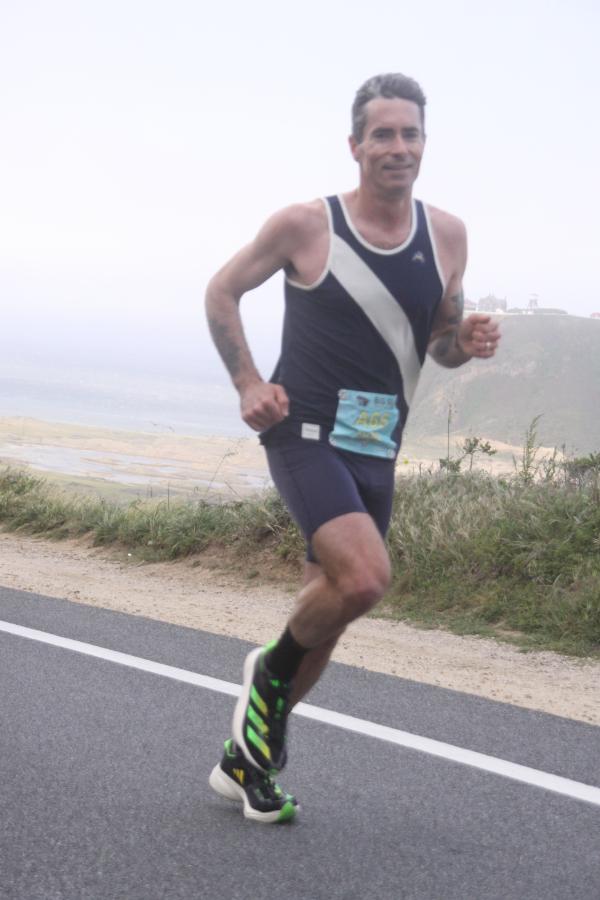 The first 4 miles of the race were mostly downhill, and my average pace was close to 6:00/mile which is right where I wanted to be. I was running with a pack that included the lead woman and a few men. We were all running within a few seconds of each other for the first 8 or so miles. Around mile 8, the winds really started to hit us hard. My pace in mile 8 was 7:37/mile. My arms became numb from the windchill. The sound of the wind was deafening over the next few miles. We couldn't hear what the aid station volunteers were saying as we ran by. People were shouting to communicate.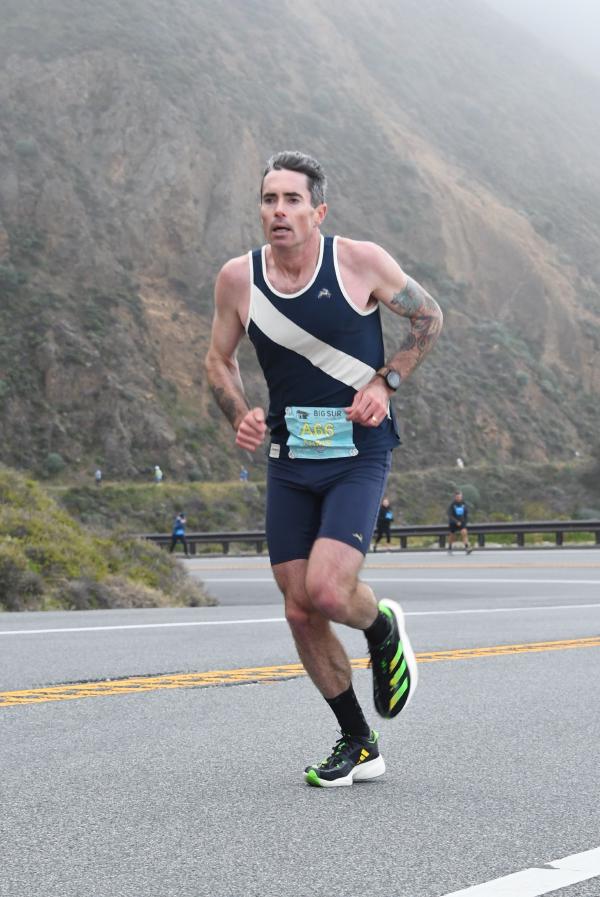 The hardest point in the race, objectively, is the climb in miles 10-12 before hitting the Bixby bridge halfway point. The climb finishes at a famous photo-op location which is aptly named "Hurricane Point." The combination of steep climb plus 50mph gusts made it feel like we were running in place at times. I was running close to the center line for many sections, in order to more easily pass the shorter-distance participants who were moving slower. The wind gusts pushed me a foot or more toward the center line on multiple occasions. Runners were staying far away from the road edge barrier to avoid a gust shoving them toward the cliff drop-off. I'm not exaggerating - it was incredibly difficult to run against that wind.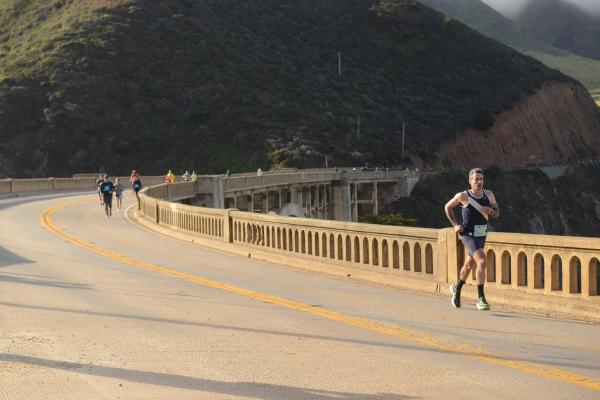 Fortunately, the topography of the second half, after the bridge, gave us some reprieve. The wind didn't go away, but we didn't experience any more 50mph gusts. I sank into a rhythm that felt sustainable. My legs felt completely trashed and I had missed the opportunity to grab additional calories at Hurricane Point. I ran by the aid, looking out for gels, and realized as I got to the end that there simply weren't any. Bags of gummy chews were all that had been available. I had done a good job of fueling up until then, so I figured that going another 4-5 miles without additional calories would be manageable. I didn't think my legs could've made a stronger effort anyway.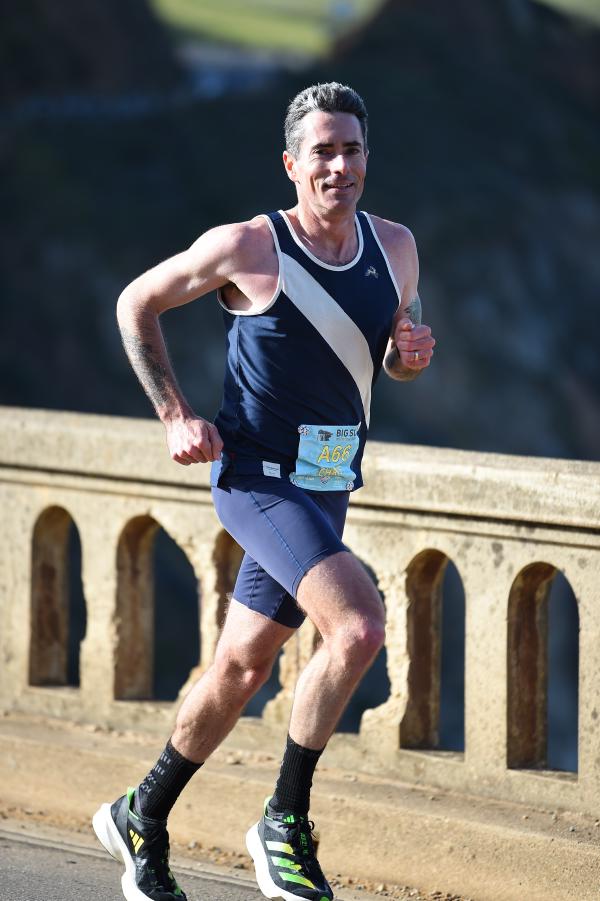 As a faster runner of the marathon, it was nice to be cheered by shorter-race participants on the way. There are no spectators on the course because of the highway closure. It's a beautiful, but quiet, marathon.
The final 6 miles were on more gentle terrain, but those final miles of a marathon are never easy. Fortunately, I was able to pick up my average pace per mile by about 10-20s in those miles because they're net downhill and a bit more shielded from the wind. The course straightens out for the final miles after passing through the cove in Carmel. I managed to pick off one of my competitors with a few miles to go. I knew my time wasn't going to be the 2:50ish goal that I had arbitrarily picked, but I was content with my effort over the day as I pushed for the finish.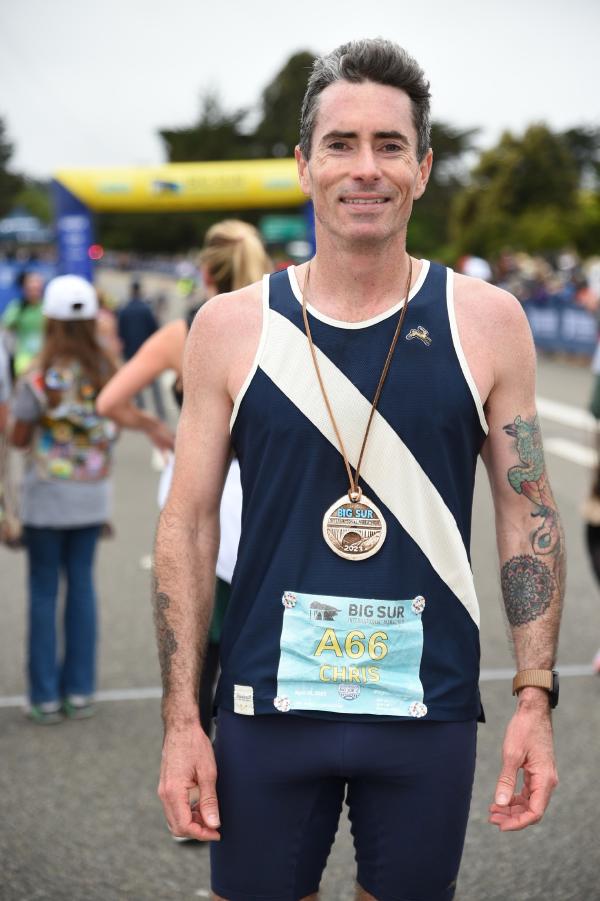 I crossed the finish line in an official time of 2:57:42. According to my GPS track, I ran 6:44/mile average pace, and Strava calls it 6:31/mile grade-adjusted. I think that adding a wind-adjusted measurement would bring my effort pretty close to the sub-2:45 effort that I ran at Boston, just 13 days prior. It was a tough day and I was proud to be in the top 20 men overall!
I received a nice little plaque for placing in the top 5 of my age group. I was 7th overall for the Boston 2 Big Sur challenge, with a combined time of 5:42:28 in the two races.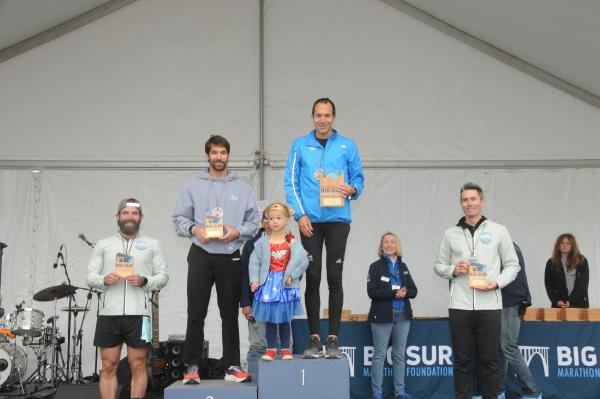 Conclusion
I have no regrets about doing the Boston 2 Big Sur challenge and running the Big Sur International marathon, but I probably wouldn't do both again in the same year. I feel absolutely wrecked after running so hard at both races. I ran a PR at Boston, and 13 days later I followed it with my best placing in a road race with thousands of participants at Big Sur. Recovery from the two marathons is taking a lot longer than recovery from just one.
I'm looking forward to the coming months of summertime trail running without any structured training plans!