Introduction
The Boston Marathon is amazing. It's a race that gets a lot of hype, and it lives up to every bit of it. This year was my fourth running of the race, and my first time returning since 2016.
Months ago, I had high aspirations of executing my best marathon training ever in a buildup to this race. I was planning to run 70 miles per week on average, and reach a peak of 80-85 miles during big weeks. I had the training base, strength, and experience to do it with confidence.
Then, life threw some curveballs. I lost a good friend, Chris Bustard, to a car accident at the end of December. Chris was hit by a car while he was out for a run. I had stayed with Chris and his wife the last time I ran Boston in 2016. His death has been a tough thing for me, and everyone who knew and loved him, to deal with.
The second curveball was that California experienced a lot of record-breaking winter weather, with stormy conditions for weeks on end. This put a huge damper on outdoor training. I don't run indoors, so I didn't run as much as I wanted.
The final big curveball was that, as an employee in the tech industry, and having recently switched employers over the summer as the "tech winter" was beginning, I experienced a very noticeable increase in work-related stress. A majority of tech companies, mine included, started preparing for economic downturn in the late summer and fall of last year. Interest rates have climbed more rapidly in the past year than I've seen in my lifetime. Corporate budgets have been slashed. Mass layoffs have been steadily occurring. The federal funds rate, today, hovers over 5%. This is the era of Elon Musk famously taking over Twitter and firing or forcing out more than 80% of the company. Meta laid off 10,000 in the fall, then 4,000 in the past month, and still plans to cut an additional 10,000 this year. Google is cutting another 12,000. It's estimated that more than 200,000 tech workers have been laid off in the past 12 months. I still have my job, thankfully, and I've been working hard at it. There is a lot of stress on the industry and especially on venture-backed companies that have yet to turn a profit.
Suffice to say, my training didn't go anywhere near to plan. In the 8 weeks leading to the marathon, I averaged around 45 miles per week. I did have a couple big weeks of 70+ miles, and I did manage to do at least 1 marathon-specific workout per week, but I obviously fell far short of my original plan of 70 miles per week.
Summary
All things considered, the race couldn't have been much better. I ran a personal best marathon time of 2:44:46 with a first-half split of 1:21:59 and second-half split of 1:22:47. I got to see my wife, parents-in-law, and parents all on Hereford in the final mile. It was one of my favorite races, ever, and that's saying a lot!
Conditions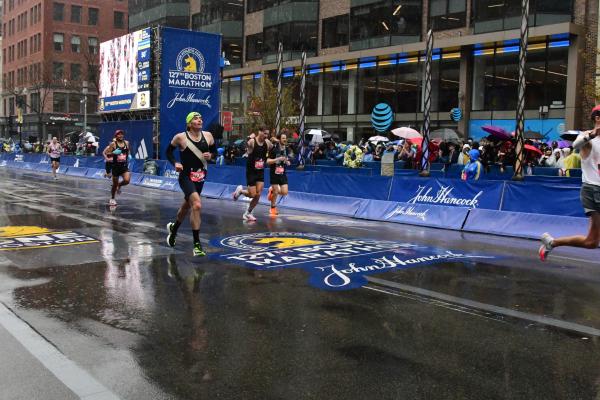 There was a light rain and headwind for much of the race. Fortunately for us runners, the rain didn't start until a few minutes before the race began. The runners did not have to deal with wet, cold conditions in the hours before the race. Many of those hours are spent outdoors as the race organizers funnel nearly 30,000 runners onto a 2-lane street for the start of the race.
Once we were all running, the rain kept the race cool but not too cold. The air temperatures were in the low-50 Fahrenheit range. I was able to race in short tights, a singlet, arm sleeves, and hat, and didn't have to wear gloves.
The wet finish made me get cold very quickly, within 10 minutes after finishing, but fortunately I was staying in a hotel nearby the finish. Getting out of cold, wet clothes and into a warm shower is so, so nice after a hard race.
Splits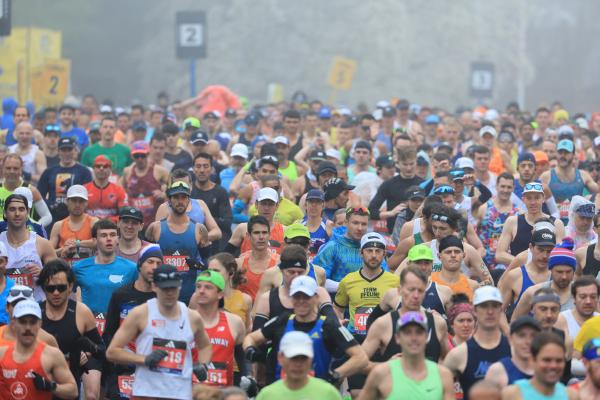 The start of the race was a frustrating experience. I was in the 4th corral of Wave 1, bib 3279, but I finished in 1057th place overall. This means that I passed more than 2200 runners in the race, and I had to deal with the congestion at the start where I was trying to run a faster pace than everyone around me. Even though I was weaving in and out of runners, surging for better positions when I could, my first-mile pace was still just 6:30. Ideally, since that first mile is all downhill, I would've liked to run it closer to 6:00.
After the first mile, I settled into a rhythm that felt hard, but also relatively comfortable. It was an appropriate marathon effort level. I went through 5k in 19:34, 10k in 38:48, and the halfway point in 1:21:59. I rolled with the terrain, slowing a bit on the uphills and speeding up on the downhills, to maintain a steady effort. My individual mile splits for the first half, after that slow first mile, were all between 6:05 and 6:19.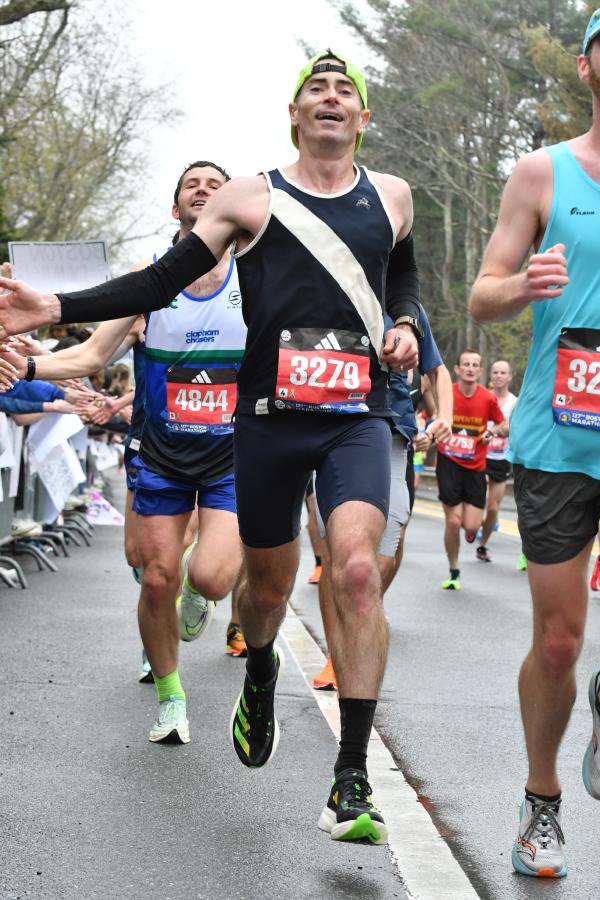 Miles 8 through 17 or so were mentally tough to get through for whatever reason. Race days can be funny like that. However, I knew to trust my body and my training. I lowered my effort ever so slightly, just enough to get my head back in the game and convince myself that it was sustainable for the rest of the race. Looking back on my paces through those miles, it's difficult to tell that I lowered the effort. My average pace per mile slowed by just a few seconds. Whatever the effect was, whether entirely in my head or not, it worked.
The hills of Newton took their toll. My splits for miles 17-21, which includes the hilliest section and Heartbreak Hill, were 6:27, 6:27, 6:12, 6:26, and 6:41. Given that my second half was only 48 seconds slower than the first half, and I ran these splits in the hilliest parts, I definitely ran a harder effort in the second half of the race.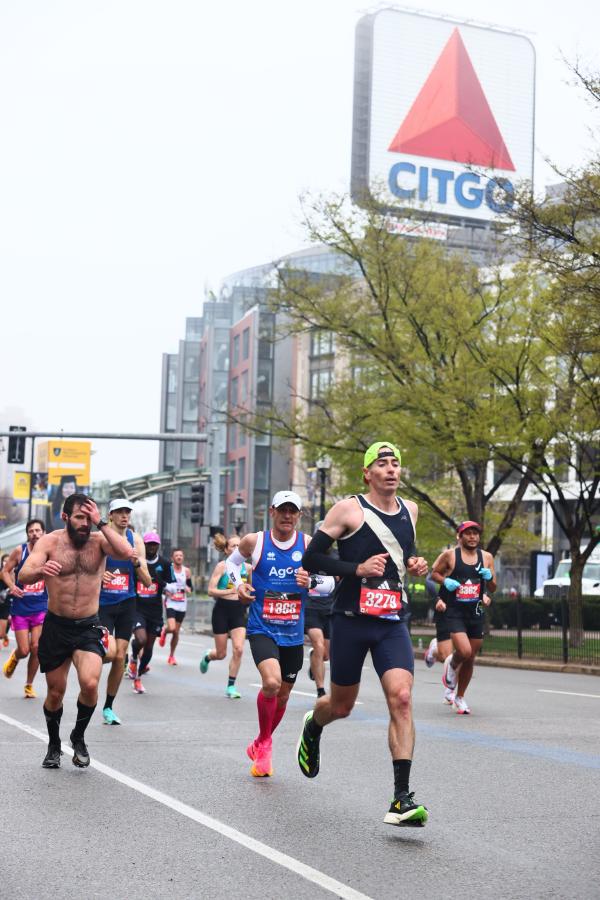 The last few miles were tough, but I knew that breaking 2:45:00 was in my sights. I pushed for every minute. As I turned right on Hereford, I started looking out for my crew on the left side of the street. I spotted them just past Newbury, right behind two police officers, and swooped in to kiss my wife and give high-fives.
As I turned left onto Boylston, down the final stretch, it felt like everything I had remembered from years past - tons of emotion, deafening roars from the crowd, and this incredible feeling that I had just raced my heart out and I was going to set a PR. I saw that the clock had turned past 2:45:00 but I also knew that I had started more than a minute back of the gun, so I raced down that final stretch. The gun time when I crossed the finish was 2:46:19, which gave me a 2:44:46 official finish.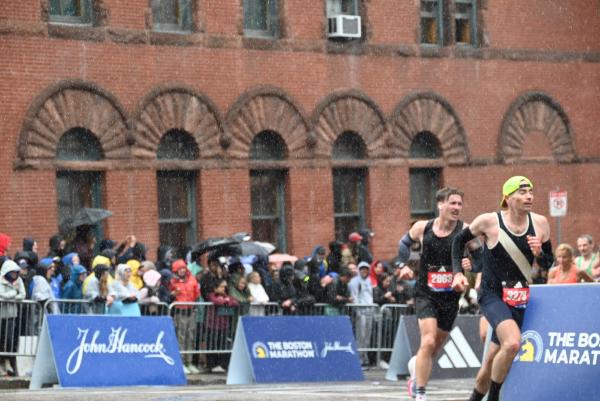 Even though I ran a PR by more than 3 minutes, this was ironically my 3rd-best placing in the field at Boston. My time was good for 846th man in a field of 15,000. It was a fast year!
Fueling & Hydration
I started with 4 maurten gels but dropped one on the course, and took 3 additional gels from the maurten stations. I also took about 6 total Gu Roctane salt pills (140mg sodium each) and 6 total BCAA pills. I drank mostly water, as much as I could (almost 1 dixie cup at each station every ~2 miles), with a couple cups of sports drink mixed in. My fueling strategy worked well. I didn't cramp and I had energy to finish strong, and that's all that matters.
Reflection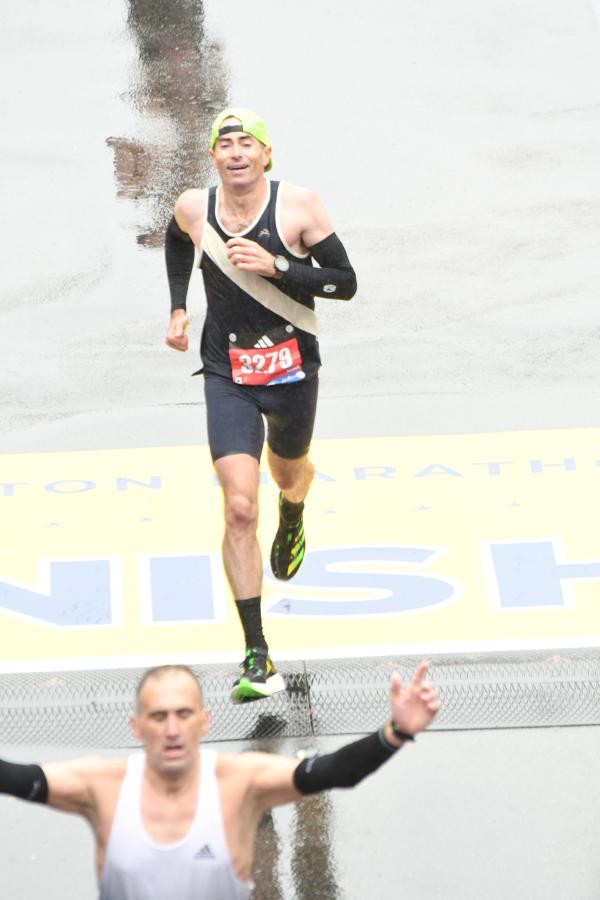 I'm proud of my race execution, and proud of the result! I enjoyed every minute of it, even if many of those minutes were Type II Fun.
I'm also so incredibly grateful that I could share the whole experience with my wife, parents, and parents-in-law. It was a weekend that all of us will remember fondly for the rest of our lives.