Intro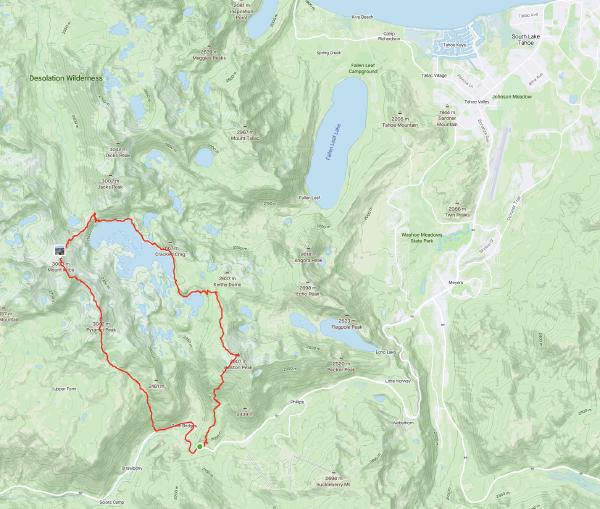 I woke up at 3am and was on the road within 30 minutes. I wanted to be starting close to sunrise, because I knew the 7 Summits route would take a long time. I was thinking that it would be 10-12 hours if things went well. I was probably right on the time estimate… but things didn't go to plan.
Nothing went horribly wrong, but an early navigation error put me behind schedule. Getting spooked on Price, and resting alone on the peak to gather my nerves, put me even more behind schedule. I had told my fiancée that she should start contacting authorities if she didn't hear from me by dark. Rather than cause alarm, I chose to skip Jack's, Dick's, and Tallac. I tagged Ralston on my way back and was at the car by 4pm. Plenty of time to spare.
I parked at the Ralston trailhead and started running at 6:43am. The first 2 miles are downhill on the highway, and fortunately I had some courteous drivers leaving plenty of room as they went whizzing by.
Strava link to my activity (note: my Strava is private but I'll generally accept follow requests)
Pyramid
The trailhead to Pyramid isn't marked, but I found it easily enough. I unfortunately had forgotten to bring DEET for the day, which meant that my body provided a fine breakfast for thousands of mosquitos as I was climbing up Rocky Canyon. It was motivation to keep moving quickly up the steep climb!
Once the trail turned to talus, I was able to spot cairns easily enough to follow an established route to the top. Pyramid is worth a visit by itself! Lots of marmots up there.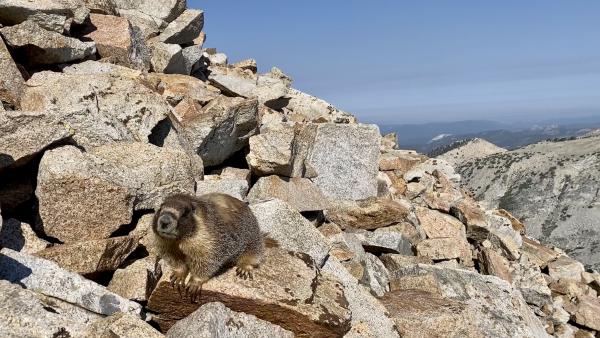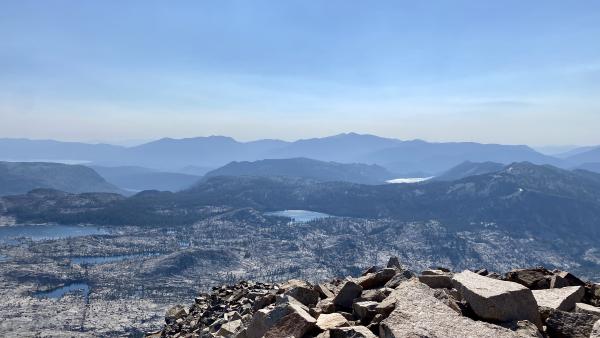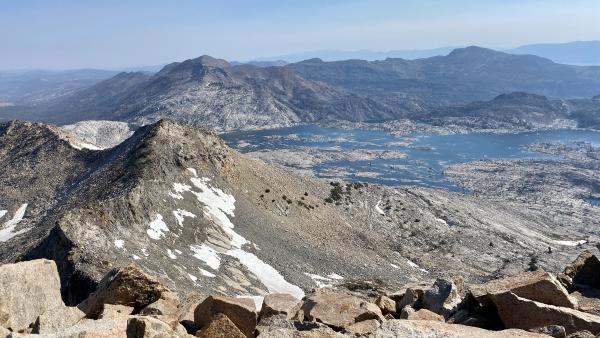 Descending Pyramid was where I made my navigation error that cost me a lot of time. In the photo above, you can see the ridgeline that goes to Agassiz on the left. I tried to follow the ridgeline. This is not the route.
I started to second-guess my choice when I was faced with a wall on the ridge that was clearly class 5 climbing. Looking at the fastestknowntime.com route, in hindsight, makes me laugh. Whoever first uploaded the route made the same mistake I made, and turned around at the wall just like I did.
Agassiz
Once I figured out a safer path to Agassiz, I pushed onward. I was rewarded with more amazing views.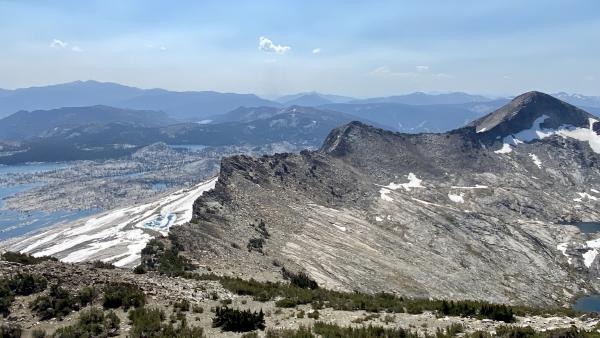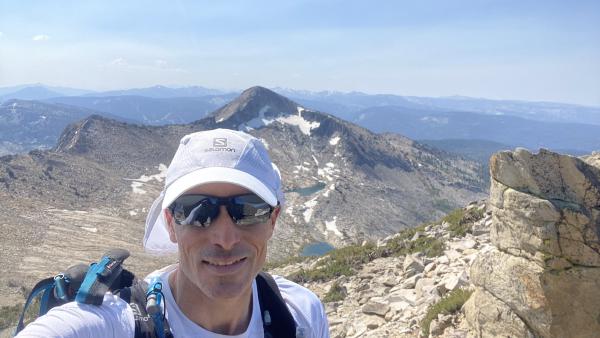 Price
Price was the toughest because my nerves started to get the better of me. Approaching from the south, it's not any tougher to get to the top than Pyramid or Agassiz. It was the downclimb on the north side of the peak that started to spook me. It's steep enough that if you fall off the one boulder that you're standing on at any given moment, you're probably going to fall at least 10 feet. You might fall much, much farther.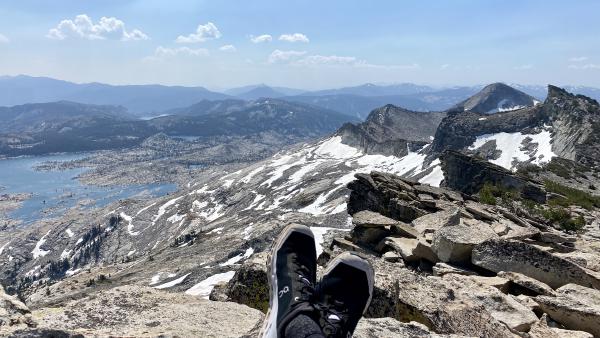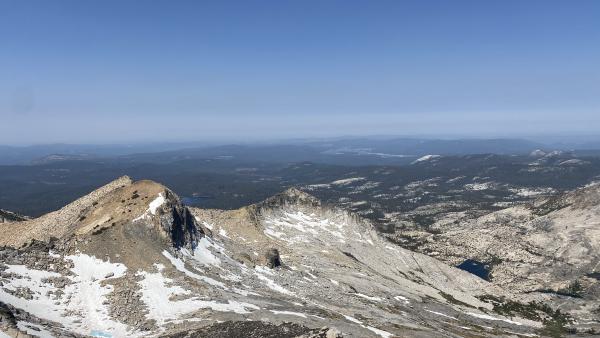 I spent a long time on the top trying to find the optimal way down, and I considered turning back because I wasn't sure I was comfortable with the downclimb. I took a couple long breaks, ate some food, drank the rest of my water, and decided that I was confident in my ability to safely make it to Mosquito Pass.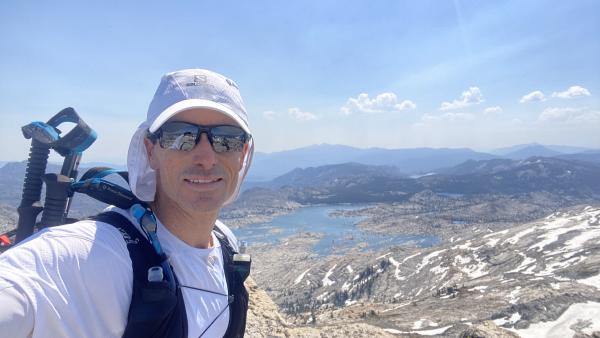 The descent from Price had some shallow snowfields. I tried to glissade, but my foot broke through the snow at one point. I slid down the rest on my butt.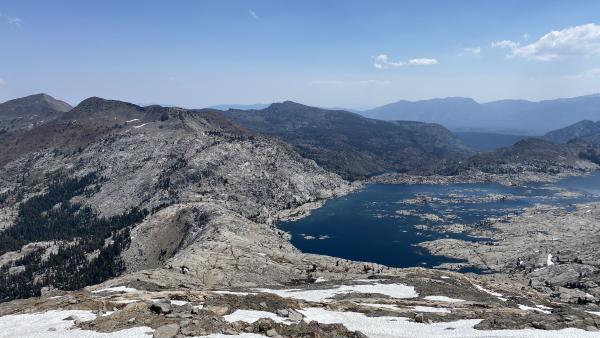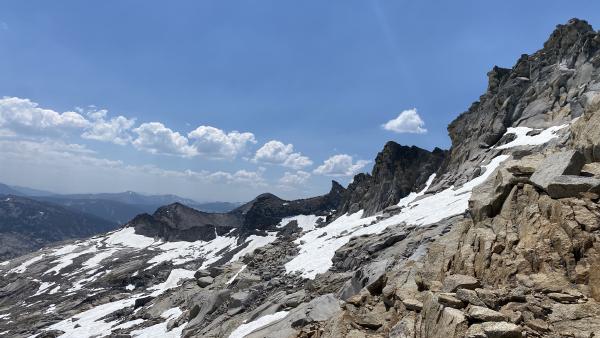 Bailing on the Objective
I crossed over Mosquito Pass and looked at the terrain leading up Jack's. I sat down for a while, and ultimately decided that my heart wasn't in it any more. I didn't want to scramble more talus. Price spooked me too much. I had gotten my fill of peaks for the day.
I still planned to tag Ralston on the way back.
Lake Aloha
I descended to Lake Aloha and stuck on the trails along the perimeter, winding my way around the plethora of backpackers in the area. It's a beautiful place.
It was really cool to look across the lake and see the Crystal Range peaks that I had just climbed!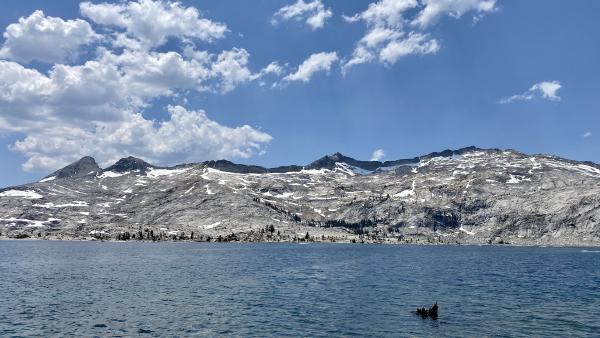 Lake of the Woods
I made a game-time decision to check out Lake of the Woods for the first time on my way to Ralston. I'm glad I did - it's certainly worth a visit.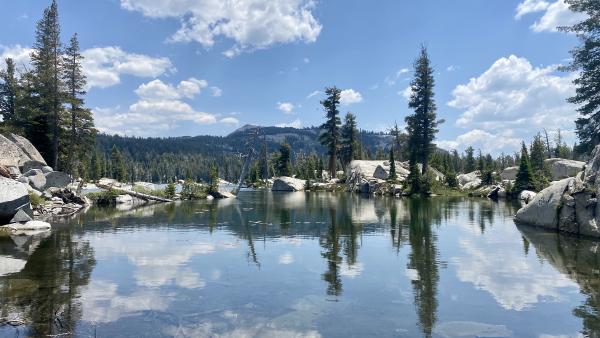 Ralston
The trail approaching Ralston from the north is nothing special until you get to the top of the peak. Once you're there, however, it's as good as the others (though far less dangerous/technical).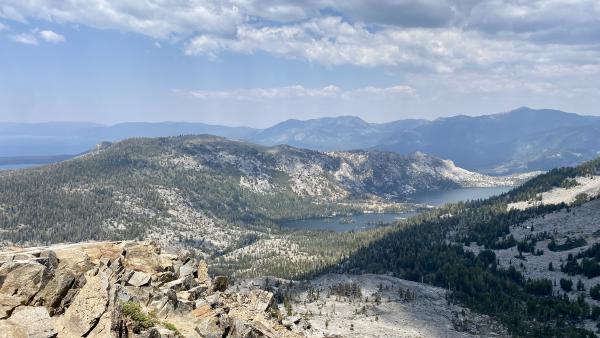 Once again, it was awesome to be able to trace my route from the day from afar.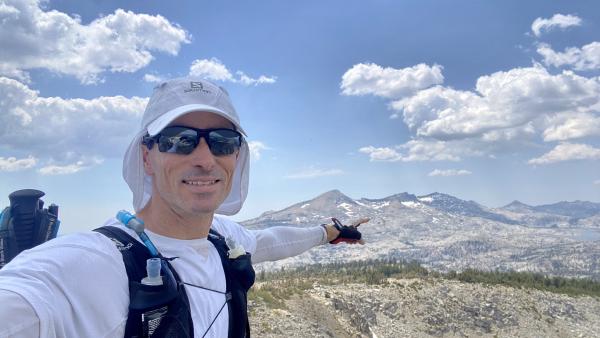 I ran back down to the car, and noticed that it was 94 degrees when I got there! It's scorching out here in 2021, even at high altitude.
Takeaways
The 4 Summits route that I did was really amazing. The 7 Summits seems like a challenging goal even for very fit, fast, confident ultrarunners and mountain athletes. I wouldn't recommend it for most ultrarunners, and I also wouldn't recommend trying it alone.
However, if you have an adventure partner and you're prepared to spend a full day, possibly into the night, on the route… then there's nothing else like it! Best views you'll get in the stunning Desolation Wilderness.
I'll be tagging Jack's, Dick's, and Tallac when I go backpacking at Desolation in a few weeks. That'll give me a better idea of whether I'd want to try the full 7 Summits route again someday.
Thanks for reading!