Intro
My fiancée and I were lucky enough to be invited on a backpacking trip to the Lost Coast in July 2021. The permits are very difficult to get because the optimal season is so short (July-September) and there are only 60 people per day allowed to be camping in the region. It's a really popular trip!
There's a Perfect Season, and There's a Wet Season
I had tried to visit the Lost Coast a few years ago in November, and it rained several (7, I think?) inches in the 2-3 day period of my trip… needless to say, I didn't even make it a full night with that much rainfall.
The region is beautiful and remote. The rainfall and storms during the winter months are constantly eroding and shifting the coast itself. It is named the "Lost Coast" because it proved too difficult to build railways or roads to connect that region to any major highways.
However treacherous the weather gets in the winter, trends show that it is usually perfect in July-August. Very few days have rain. We still brought our rain gear just in case, but we definitely didn't have a need to bring it out at any point.
Timing the Tides
Our mid-July permits gave us 3 nights, 4 days for our hike. We had really bad timing with the tides - low tides were in the early AM hours, which meant that we needed to be through some of the impassable zones by 8-9 AM. This meant that we had really early wake-ups for two days. We ended up completing the hike in 2 nights, 3 days because of schedule forced by the tides.
Day 1: Mattole to Sea Lion Gulch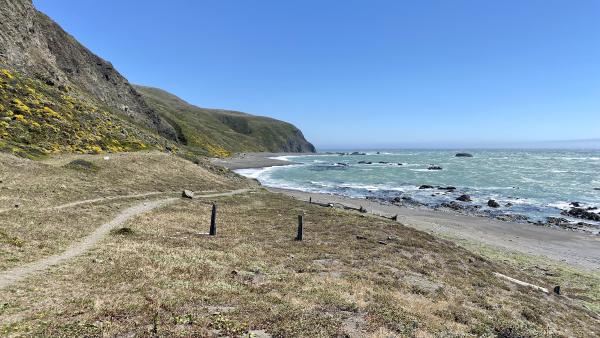 Our group opted to take the shuttle from Black Sands to Mattole, and we got dropped off in the early afternoon. We set off immediately because were worried about getting around the lighthouse in a high-tide period. The first part of the trail is somewhat sandy, but very easy compared to what we'd face over the next couple of days.
The high tide turned out to not be a problem, and we made it to (and around) the lighthouse with ease.
The Punta Gorda Lighthouse
A short while into our hike, we came upon one of the few structures on the Lost Coast - the Punta Gorda Lighthouse.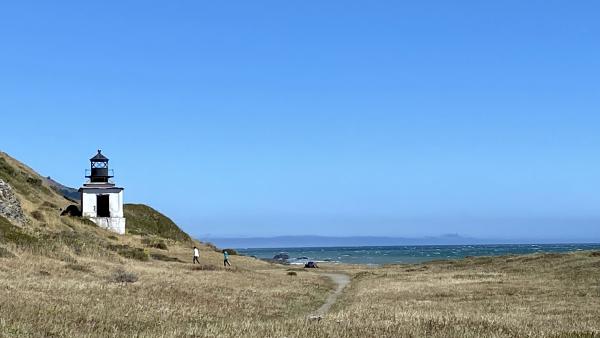 The Punta Gorda Lighthouse is interesting for its remote location. If you're the kind of person that enjoys obscure history, I'm sure there are plenty of rabbit holes to go down here… how it was built, the importance of the shipping industry to the West Coast, the lives of the keepers, etc.
Near the lighthouse was a colony of elephant seals. I'd swear that these creatures are the main inspiration for the Star Wars character Watto. They were hanging out by (what looked like) some rusted-out part of a shipwreck.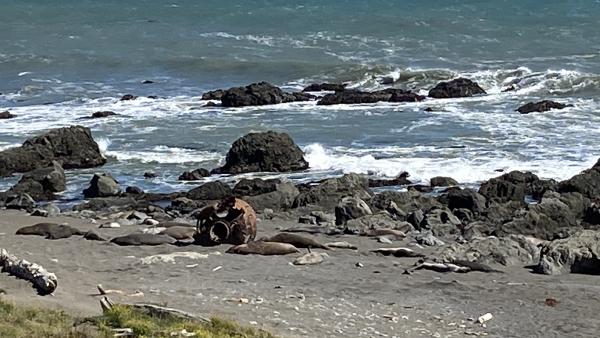 Day 1 Campsite: The Bluffs on Sea Lion Gulch
Our campsite for day 1 was very picturesque, but also very windy. This section of the trail was probably my personal favorite. It's a narrow singletrack trail with steep ups and downs, and some precarious spots that will surely send you tumbling with a misstep. I loved it.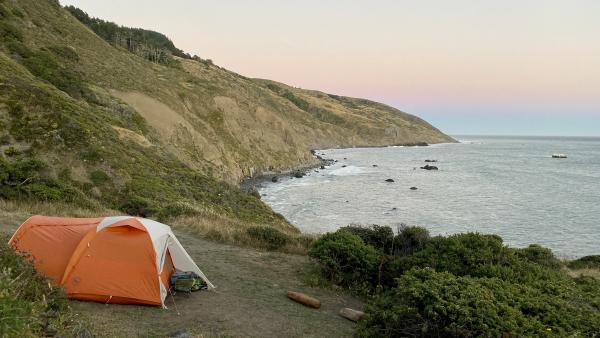 With great views comes great exposure, and we were lucky that the wind calmed down just a bit at night… but we definitely made sure to use all the stakes for our tent. It's the kind of spot that the tent could've been whipped away in an instant.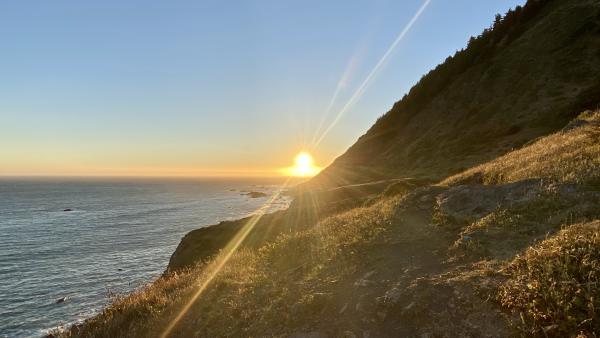 Day 2: Sea Lion Gulch to Big Flat
We awoke super early (4:45 I think?) because we had a 4-mile section of the trail to cover before 8-9 AM. We were being very conservative with our estimates of time required, but the trail definitely warranted the respect we were giving. We averaged less than 2 miles per hour on that section with our full packs. The section is impassable at high tide, which means that during low tide you're walking over ocean-washed rocks. And they're not small rocks - they're head-sized rocks. It's not exactly easy-going terrain, but at least it's flat and at sea level.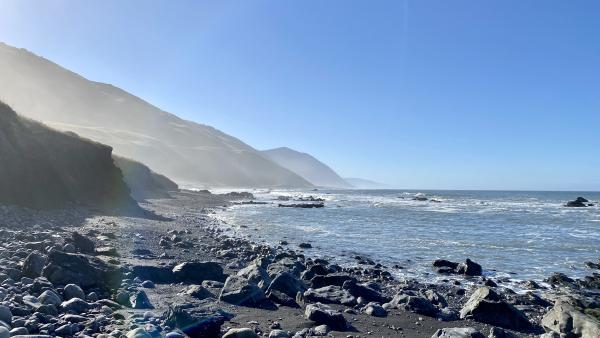 Pushing for a Long Day
Since we got such an early start, we were able to take an extended break at Randall Creek for "breakfast" in the mid-to-late morning. We decided that we were feeling good, so we'd keep hiking for the day. This section of trail was really pleasant - not as windy and exposed as prior evening, but still meandering along the beach and immediate hillside. The views were stunning.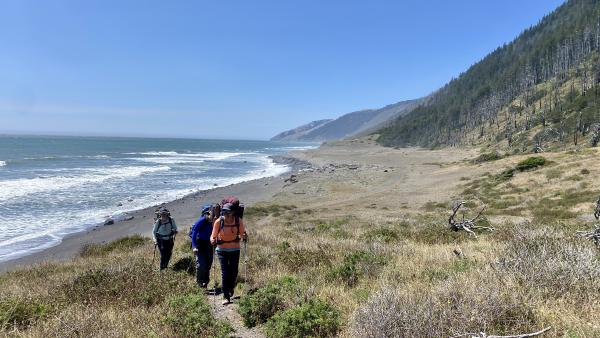 Yo-Yo with the REI Group
In our early-morning push, we had passed one of REI's managed groups as they were packing up at Cooskie. They kept catching up to us throughout the day as we took breaks. We ended up hiking with them for a bit. The guides were happy to share info with us about our best options for camping that night. Based on their feedback, we chose to go onward to Big Flat.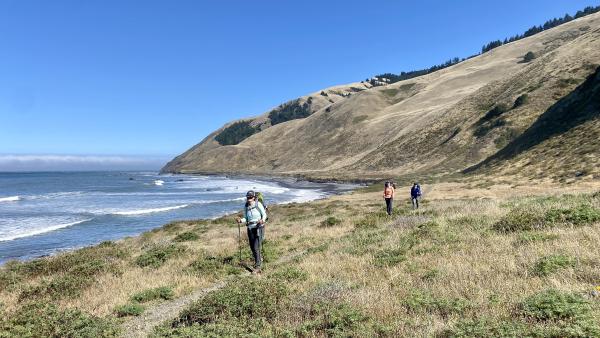 Big Flat
Our group was exhausted by the time we got to Big Flat. For most people, hiking 10-12 miles on sand and smooth-rock terrain with a full pack is a rough day. We were happy to put our feet in the creek at the end. Big Flat had a ton of tent sites, and we got a great one with makeshift benches and views of both the creek and the ocean.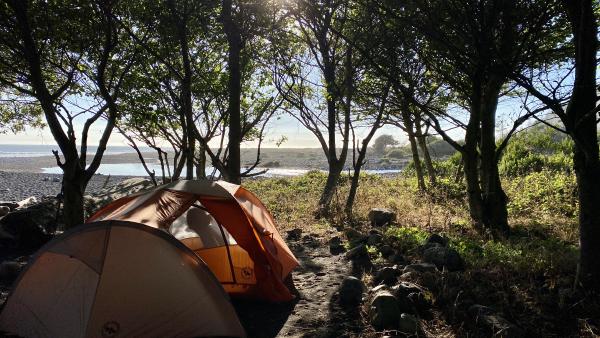 A Silent Retreat?!?
A funny side note - there was a silent retreat going on at the one private house at Big Flat. We had heard about the retreat beforehand (in our shuttle ride), so it wasn't all that shocking to see… but it's definitely a weird experience to be in the middle of nowhere and come across a nice, well-kept home with a few dozen people meditating in the front yard 😂.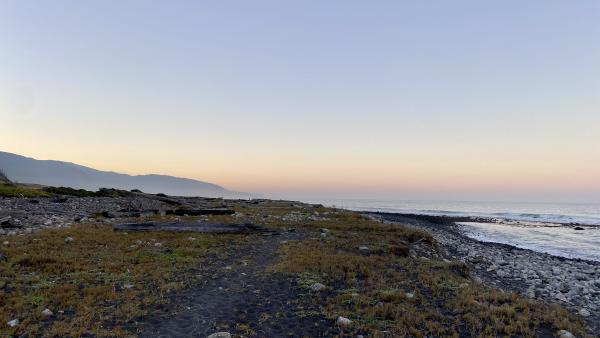 Day 3: Big Flat to Black Sands
Day 3 was another early wake-up, though not as early as Day 2. We could've stayed at Big Flat for the whole day, but we opted to get through the next impassable zone so that we wouldn't be forced to have a long hike out the following day.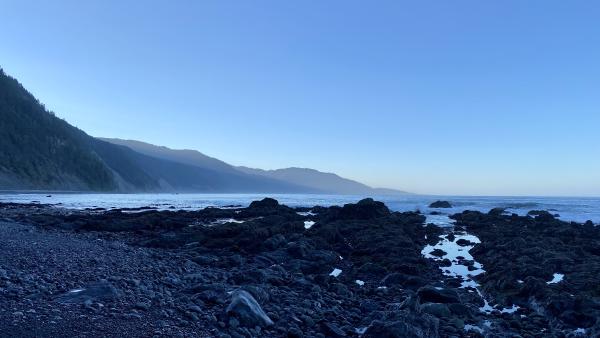 Deciding to Hike Out
The third day was much like the second day, except for some extra exploration of the creeks that we came across. There were some great little campsites tucked back into the creekbed areas. Since we got another early start, we had made significant progress before noon. We decided to hike out rather than spend another night. It certainly helped to know that we could be home in San Francisco in time for dinner.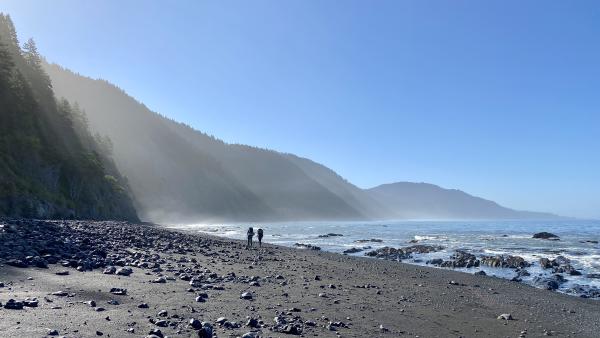 The views were spectacular, as they had been for the entire trip. We followed some bear and coyote prints for a lot of the morning - a good reminder of why there's a strict requirement for bear canisters.
All in all, the Lost Coast was a great trip that I'd definitely do again!