Intro
I came up with a crazy idea to set a fastest known time (FKT) for running up and over Palomar Mountain in both directions! I'm sure that someone in history must have traveled over the mountain in a day, but I'm not sure that someone would have done it twice. Unfortunately, after doing so much research and scouting in preparation over a couple years, I ran into (literally) a locked gate on the USFS road which wasn't indicated as an impassable area on the USFS maps. I was forced to turn around.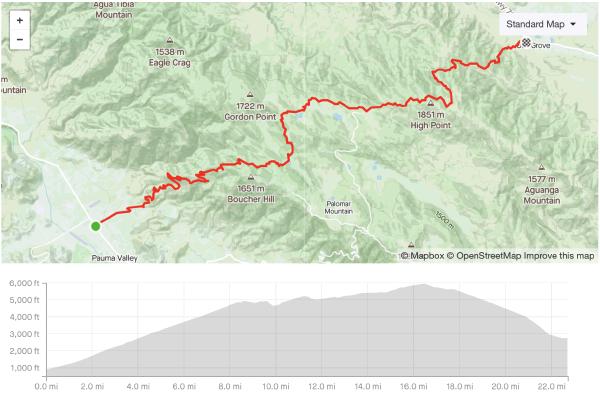 This was a project years in the making. I first ran on Palomar Mountain in 2016 when I heard about the Dripping Springs trailhead into the Agua Tibia Wilderness on the north side of the mountain. I really enjoyed my exploration of that area. I was intrigued when I got to the top of the mountain divide because I realized it was more or less a single ridge that went all the way to the high point. I could see views of the San Jacinto range to the northeast, the San Gabriels further to the north and all of San Diego county to the south.
Palomar Mountain
Palomar Mountain is the highest mountain in San Diego County. It rises to over 6,000 ft at the high point. The entire mountain is surrounded by desert basin on all sides, so it is an impressive behemoth of a feature that can be seen from many parts of San Diego County.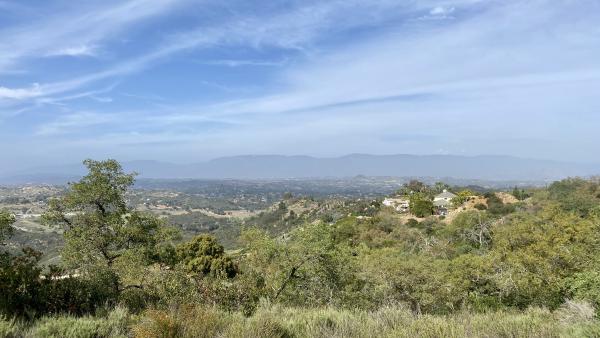 The Idea was Born
When I first ran Palomar, Strava heatmaps weren't really a thing yet and there was no trail map that I knew about which covered all of the mountain trails. The mountain is made of designated wilderness, California State Park land, Native American territory, US Forest Service land, and private land. Gathering info about open trails across the whole mountain isn't the most straightforward thing to do.
Later in 2016, I went backpacking in Denali National Park. I learned all about the USGS maps while designing and ordering my custom waterproofed maps to use at Denali (there are no trails at Denali, and it's so big that you need to bring your own maps).
I took what I learned from the Denali experience and downloaded high-resolution quadrant maps for all of Palomar Mountain. I studied those USGS maps for hours, and I was able to construct a theoretical route that would cross the Palomar Mountain Divide on publicly-accessible trails! Or so I thought…
I studied those USGS maps for hours, and I was able to construct a theoretical route that would cross the Palomar Mountain Divide on publicly-accessible trails! Or so I thought…
Preparation
I knew I wanted to establish this as an official FKT route on fastestknowntime.com, which meant that I needed to make a coordinate track of the route. The problem with creating such a route was that the USGS quadrant maps were 40-50 years old, so I wasn't sure the trails still existed. I needed to do some scouting work before I could construct an accurate series of coordinates.
Scouting
My first scouting trip on the mountain was hilarious. The USGS map I had studied showed an old fire road leaving the state park, but it was clear when I got there that buildings (at some point, a school) had been placed where the road used to be. I ended up bushwhacking for an hour or two before I found the road. I ran the road back in the direction from which it was supposed to come, and discovered that it was accessible through a campground area. This was good!
On my next visit I got lost (just for a little while) on top of the mountain. There are now multiple fire roads up there, probably to help fight fires in the remote parts of the mountain, but not all of them are shown on the USGS maps. I explored a few, and figured out the route that would take me on the north side of the Observatory. I knew that from there I could connect the east-side trail to the desert floor. Another good sign!
I was able to read cycling reports about cross riders climbing the Nate Harrison grade on the west side, and I knew that I could connect the top of that route with the state park. The last piece to uncover was the east side, the Oak Grove trail. It's a very lightly-trafficked trail that starts behind a volunteer fire station of the Cleveland National Forest. I trusted that it existed, and verified with Strava's heat maps that people were indeed hiking it occasionally (maybe every few weeks?).
The FKT Submission
With some time spent looking at my scouting tracks, and using Strava's premium Routes feature, I was able to make a very accurate track. I submitted the .gpx files for a few route variations (East-West, West-East, and the two climbs). I paid $20 to the Fastestknowntime site (which I'm happy to do for each submission - their work is amazing). A couple days later, my route was approved!
Delayed by COVID-19
Unfortunately, the California state shutdown occurred just as I was planning to attempt the route. The ICU bed capacity was full due to COVID-19. I was forced to delay my adventure in order to stay in compliance with county-by-county restrictions on travel.
Final Scouting
Finally, in the sprint of 2021, I was able to make it to SoCal and scout that east-side climb. I was treated with the most amazing sunset on a completely-empty trail and mountaintop. I couldn't believe I was in a state with 55 million people and not a single person wanted to enjoy that sunset from the mountain on a Monday night.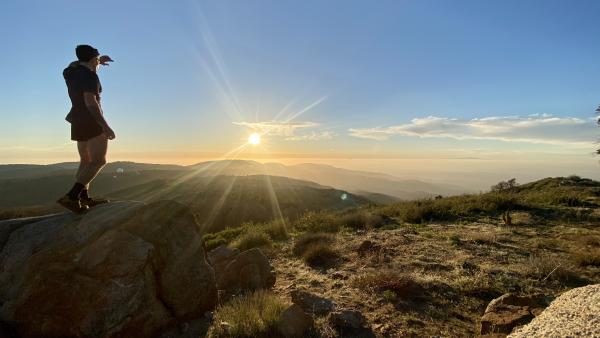 Execution
A stellar ultramarathon execution begins with proper planning. Always remember the 7 P's: Proper Prior Planning Prevents Piss-Poor Performance. I planned my splits to the critical water-refill points, planned enough nutrition for 7-8 hours of optimal fueling, and packed my bag. I set targets for my nutrition (300 cal/hr), hydration (0.7 L/hr), and electrolytes (750 mg/L Na+). I multiplied those hourly requirements by my expected time on trail. I knew my expected time by multiplying my section paces from scouting the trail and from knowing how I perform on this type of terrain. I targeted a 7hr 15min expected time for this unsupported effort.
Going Up
I arrived at the interesection of Hwy 76 and Nate Harrison Grade Rd just before civil twilight, and started running in the dark. The first mile or so is a paved road that has a gradual incline before it turns to dirt. It travels through a grove of trees before entering Native American land as it climbs the mountain.
Nate Harrison Grade Rd is a beautiful run in itself. The temps were in the 40's as the sun was rising, and I was treated to an amazing view of the marine layer that blankets Southern California coastal areas this time of year. I love running up above the clouds - it's one of my favorite and most inspiring things to experience. It's just steep enough to be "runnable" for a very fit runner, especially one with a full pack, and I power-hiked just a handful of sections when I started to eat.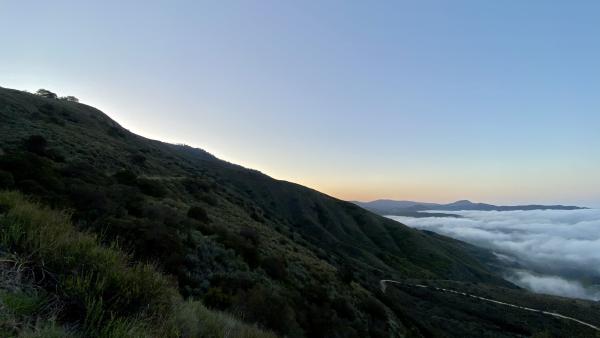 I love running up above the clouds - it's one of my favorite and most inspiring things to experience.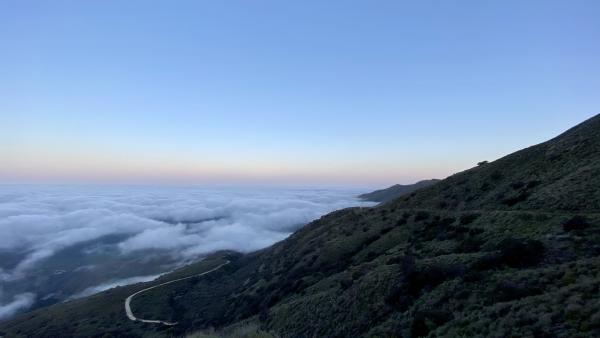 Palomar State Park
Palomar Mountain State Park is on the top of the mountain, on the west side. Nate Harrison Grade Rd enters park lands and the route I had crafted uses the state park trails. Most critically, it's the only point on the route that has a reliable potable water source. I saw a few people out hiking as I ran through the trails. A few campsites were cooking breakfast as I refilled my water and continued onward.
The Locked Gate
Shortly after passing through the state park, the route I made joined 9S07, also known as the "Palomar Divide Truck Trail". This road passes north of the Palomar Observatory, owned by Cal Tech, and this is where I ran into trouble.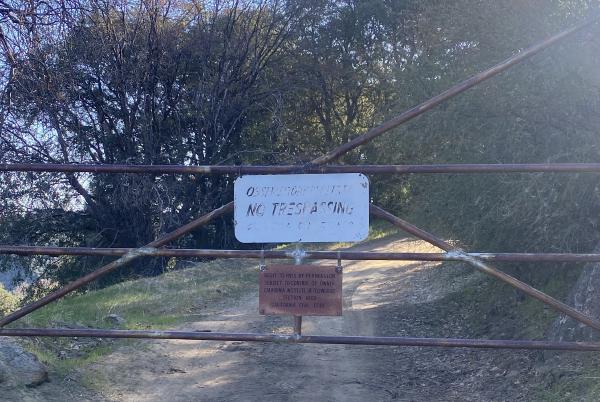 Not wanting to set a bad precedent of crossing private lands for the sake of reaching my goal, I turned around. The descent was just as beautiful as the ascent, but my heart was a little bit broken. I had poured so much time and energy into crafting this adventure and training for it. It was going to be my first big running goal accomplished after California's 2nd COVID-19-related shutdown. Now I knew it wasn't going to happen.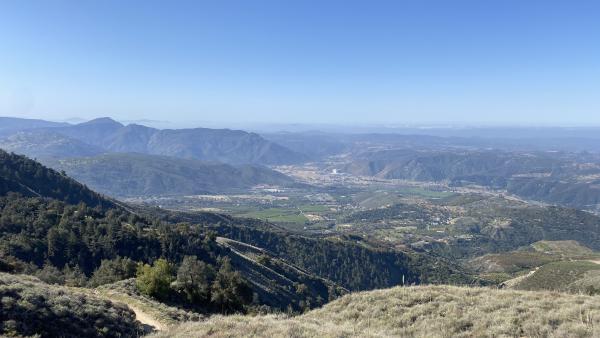 A Dream Shattered
I was so confused - why was this private land not marked on the USFS maps? Why does their website, to this day, still show "Palomar Divide Truck Trail" as "Open"? The day after my FKT attempt, I was able to contact a USFS employee with my questions, and I got the following responses.
"My guess is that the map you looked at does not differentiate between the Forest's "Proclaimed" boundaries and our actual boundaries. This is a very common problem. The proclaimed boundaries are set by Congress. They are the maximum possible extent of a given National Forest. However, we do not control all of the land in those boundaries. This has led to a lot of confusion over the years." -USFS Officer
So, maps are based on boundaries set by Congress, but those boundaries aren't real representations? Wow, that sucks.
"Public access over roads on private land can be a very complex legal issue. Unless you have confirmed a given route, it is safest to assume that roads over private land are off limits. I do not know how long the Observatory has gated their portion of Palomar Divide Road, but it has been closed since I have been here." -USFS Officer
So why, then, does the Cleveland National Forest continue to list 9S07 as "Open"? It clearly is not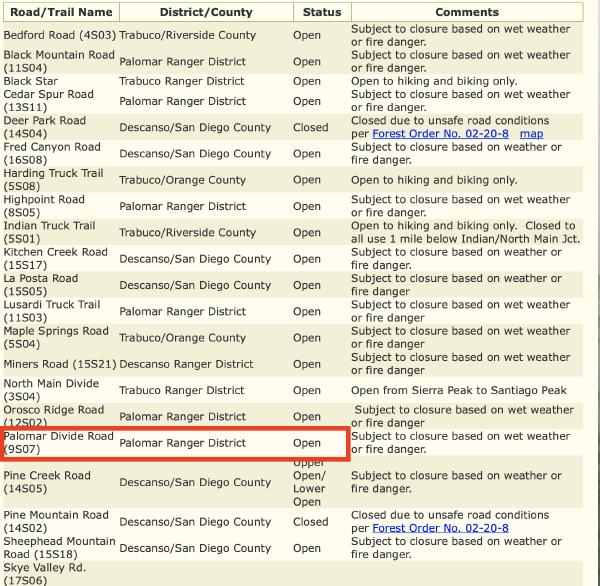 For what it's worth, I reached out to Cal Tech directly to ask permission to cross their land. The answer was a very firm "No". It's a shame that Cal Tech, an elite educational institution with a multi-billion-dollar endowment, can maintain their tax-free status while restricting public land access from the public. Especially when it is access that literally blocks the ability to walk or bike across the top of the tallest mountain in a county with millions of residents.
It's a shame that Cal Tech, an elite educational institution with a multi-billion-dollar endowment, can maintain their tax-free status while restricting public land access from the public.
What's Next
I'm not sure what's next on the horizon, but this zapped any desire to create additional epic FKT's. I hate that the USA has a culture where landowners put up barbed wire and "No Trespassing" signs everywhere without considering how it limits the recreational potential for outdoor enthusiasts. This culture doesn't exist in the Alps or in the Lake District of England - routes cross privately-owned land all the time.
It's also a shame to know that any numbers regarding acreage or percentages of public lands in a region must be taken with a grain of salt. Private lands exist within public land boundaries, and these private lands are not subtracted from totals that reflect the public lands. It's a shame, really, because it makes me lose faith in our ability to maintain public lands for the public good.